Abby Blair - Bachelor of Health Science (Speech Pathology) - 2013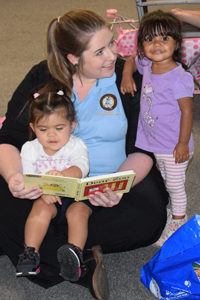 Speech Therapist
A year after graduation, Abby Blair is working in her dream job.
Growing up in the Riverina, Abby completed her Bachelor of Health Sciences (Speech Pathology) at CSU's Albury-Wodonga Campus before landing a role as sole Speech Therapist within Griffith Aboriginal Medical Services following a third year practicum placement there.
Facing amazing opportunities and challenges, Abby says it's helping children and their families learn new skills that reminds her why she loves doing what she does.
I was the last one of my family to go through CSU... my father, older brother, and four older sisters also went through. We finally have all finished, and my dad has started work at as a mentor for education students on placement. It's pretty cool that a lot of my family has been through CSU!
My usual week includes... days within the clinic, visiting the schools and early learning facilities in Griffith, and also surrounding areas, such as Lake Cargelligo, Hillston, Murrin Bridge and Yenda.
The position allows me to be fairly flexible, which lets me work in a way that helps make my service accessible and effective to the community. I work in many different settings with many different populations. The majority of the clients on my caseload are Aboriginal or Torres Strait Islander, and this means focusing on attempting to deliver a service that is culturally accessible and appropriate.
Another perk my current job is I am able to participate and help facilitate community events within all of the communities I work in. It's nice to know I am giving back to the community I grew up in!
As a child, I was most curious about... anything and everything. Basically our copy of "The Big Book of Why" was well used. I remember being very curious about the way things worked, the world, nature, space and mostly how I always managed to get caught out!
To be honest, I wanted to study in a bigger city... I told myself I will go to Albury for one or two semesters and then transfer. After about three weeks I knew I would be there until my degree was finished. I loved the campus, the people I had met. I loved being able to get home in three hours. I loved being somewhere that was a bit bigger but not a city. I couldn't be happier that I went to CSU, and I don't think I would have the same great memories, friends and experiences (both personal and educational) if I had studied anywhere else.
My favourite CSU experiences... included having the flexibility to choose an elective subject in my third year that allowed me to travel to a hill tribe village in Northern Thailand and work with some beautiful children and staff members at the Home of Charity within the Camillian Social Centre.
I was also supported and encouraged to participate in a five-week placement at Autism Care Nepal. This was an amazing experience where we were immersed in a centre where their culture was strong and their passion for making change was even stronger. Experiences like this are what made my time at university so ridiculously cool!
At university I was inspired… by the amazing people who were and are out there busting all they have to try and make positive change happen.
Today I'm motivated… by the little things. I'm motivated to continue building and providing a service that people want to use. I am motivated by my nephews who constantly remind me that life is not that serious, except if there is a lizard in the shower!
In my profession it is important to… be a person. Don't expect people to prioritise things you wouldn't. Be empathetic, compassionate, real, ethical, fun and most of all be mindful of your judgements, because that's what they are… yours.
I never dreamed I would… have graduated university and now miss the daily grind of classes and thrifty spending.
The biggest influence in my life... my ridiculous and wacky family! They supported me as a seven-year-old grub in overalls busking on a four stringed guitar, my terrible attempts at carpentry, as a strange teen and…surprisingly to this day will support me no matter what!
I'm passionate about what I do. The response you get from families when their child learns something they have been struggling with, or when you upskill a family and see them using that skill with more children, or when hear a first word or see a first effective communication attempt, it reminds me of why I do what I do and why I love it.
In the future I'd like to… travel the world, work all around Australia, make positive change, see space, and find my missing spoon ring!