Damian Candusso – Bachelor of Arts (Fine Arts) – 1998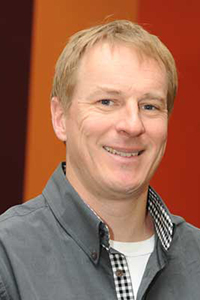 Sound Designer
Sound designer and Charles Sturt University (CSU) academic Mr Damian Candusso is starting 2011 on a high.
His work as Sound Effects Editor on the 3D animation film, The Legend of The Guardians: The Owls of Ga'Hoole has been recognised at an international level.
The film has been nominated for an annual Motion Picture Sound Editors (MPSE) Golden Reel Award in the USA. It has been nominated in the category of "Best Sound Editing in an Animated Feature Film".
Mr Candusso will travel to the USA to hear the winners announced at the MPSE Golden Reel Awards in Los Angeles on Sunday 20 February.
He worked on the sound effects of Zac Snyder directed The Legend of The Guardians: The Owls of Ga'Hoole in 2010, contributing many of the designed 3D sounds of the film.
"This is the only Australian film nominated in any of the seven Golden Reel feature film award categories," said Mr Candusso. "It is up against Toy Story 3, Despicable Me, Tangled, The Illusionist and How to Train your Dragon."
Head of the School of Communication and Creative Industries at CSU in Wagga Wagga, Associate Professor Margaret Woodward said, "The award nomination for The Legend of The Guardians: The Owls of Ga'Hoole is yet another highly prestigious achievement for Damian.
"He has received numerous accolades from the MPSE which are well-deserved given his contribution to the development of his profession of sound design internationally."
Mr Candusso, lecturer in sound and multimedia in the School of Communication and Creative Industries, is also eagerly awaiting the imminent release of another of his film projects, the 3D cave-diving adventure, Sanctum.
He was Sound Effects Editor for Sanctum, which is produced by James Cameron and stars Richard Roxburgh. It is due for release this Thursday 3 February.
Mr Candusso was last year elected to the MPSE Board of Directors. He is also chairman of the judging panel for the 2011 Golden Reel Awards category of "Best Sound Editing: Short Form Sound Effects and Foley in Television".
"The judging panel chair decides the Golden Reel Award for the best television drama sound effects and foley in the world," said Mr Candusso. "My appointments as a judging panel chairman and on the board of directors are the first such MSPE appointments from outside America."
His contribution to the Motion Picture Sound Editors was also highlighted last August when he received a "City of Los Angeles Certificate of Recognition" from Herb Wesson Jr from the Los Angeles City Council.
Following his work on the George Miller animated feature film, Happy Feet in 2006, the CSU academic is currently engaged on the 3D production, Happy Feet 2.
Damian Candusso has always loved music and sound. Damian says "nothing beats hearing your hand crafted sounds at full volume in a cinema!"
Proof of this passion is that Happy Feet, won The "Oscar" for Best Animated Feature Film of the Year.