Amanda Watts - Bachelor of Pharmacy (Honours) - 2004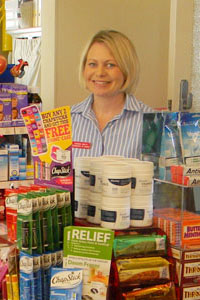 Charles Sturt University (CSU) pharmacy graduate Mrs Amanda Watts's unconventional approach to addressing rural healthcare shortages has delivered surprising results.
After completing her Bachelor of Pharmacy at CSU in Wagga Wagga in 2004, Mrs Watts was determined to use her degree to make a difference in the Orange region where she had grown up.
"I had seen from first-hand experience the need for more and better-integrated health care in and around the Central West," she said.
"I also felt pharmacists, who are often the patient's first point of contact with the health care sector, weren't properly included in team-based healthcare."
Two years ago Mrs Watts took her first step towards rectifying those deficiencies, buying the Millthorpe Post Office and opening a pharmacy in the building while continuing to offer full postal services.
"It's an unusual business model, but it made perfect sense for us and for the community," she said.
"More recently we opened a medical centre here as well, so now it's a pharmacy, post office and doctor's surgery all in one."
CSU pharmacy graduates Mrs Amanda Watts and Mrs Kate Wright. Mrs Watts manages the business with the help of another CSU pharmacy graduate, Mrs Kate Wright, who moved to the region to study at CSU in Orange.
"I came to Orange from Nowra originally because I wanted to stay in a rural area," Mrs Wright said.
"My husband and I loved it so much we built a house in Millthorpe and now I've learned how to run a post office, how to run a medical centre, I've joined the local Rural Fire Service and I'm training to be a diabetes educator."
Mrs Wright said working in a small town was personally and professionally satisfying.
"You tend to personally know everyone who walks in," she said.
"Some patients drop off flowers they've grown at home, some bring in scones for morning tea, it's lovely.
"It's very rewarding professionally because you are able to be involved with the patient's care from the beginning to the end.
"It makes for a great continuity of care and you get to see the patient outcomes."
And those outcomes are much improved under the new healthcare model, says Mrs Watts.
"Co-locating the doctor's offices with the pharmacy is working very well for patient care," she said.
"Kate and I manage the surgery so we're arranging appointments and helping when we can, which means we can work in very close collaboration with the GPs.
"We can organise appointments and follow-ups, or if patients are struggling with medication dosages we are able to dispense very specific medication schedules to fit around their appointments with the GP or specialists."
Mrs Watts plans to expand the practice by early next year to include several new serviced medical rooms to make more GP services and other allied health practitioners available to the area's growing population.
"In the last census there were 1 100 people in Millthorpe and five years previously there were only 650," she said.
"The town is growing fast and there are 7 000 people in the Blayney Shire, so there is certainly a market need.
"We've already spoken to several GPs and allied health practitioners in various fields who are keen to offer their services and we plan to start capital works on an expansion later this year.