Derek Motion - Doctor of Philosophy - 2011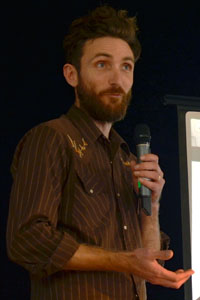 Arts advocate, poet
To the uninitiated, the Riverina region of NSW may not appear rich in creativity and culture. Scratch the surface, though, and a vibrant arts scene comes into view.
It's in the west of the region that you'll find Derek Motion; poet, reviewer, editor and Regional Arts Development Officer.
Growing up in Wagga Wagga, Derek thought he would one day work in IT. It was years later that he commenced a PhD in English Literature and began taking his writing seriously.
Winner of the 2009 Overland Judith Wright Prize, Derek has been published in Cordite, Meanjin, Otloliths and Overland and served as director of the Booranga Writers' Centre for five years.
Here Derek explains why he is so passionate about the arts.
I'm currently… the Regional Arts Development Officer for Western Riverina Arts, working across Griffith, Leeton, Narrandera and Murrumbidgee shires in Regional NSW.
At school I… studied maths and computing. I always thought I would work in IT in some way.
My childhood… was reasonably happy.
As a child I was most curious about… myself and my own troubling thoughts.
I chose CSU… because there was a campus in Wagga, my home town.
My best experience at CSU was… being challenged and inspired by some key teachers.
My worst experience at CSU was… dropping out of the degree I originally enrolled in when I was 17.
At university I was inspired to… begin taking my creative writing seriously, to submit work to various publications.
Today I'm motivated to… develop programs that help regional practitioners find viable work as artists.
In my profession it is important to… have an accurate sense of what the community needs and wants.
I never dreamed I would… be able to call myself a CEO (and I do sometimes, even though my organisation employs only 1.5 full time staff).
The biggest influence in my life… has been Franz Kafka.
I'm most proud of… my wardrobe.
My greatest achievement is… my kids.
Why are you passionate about what you do? Because arts and culture is what it's all about – this is how people engage with the world and feel happy.
In the future I'd like to… go into outer space.
The best piece of advice I ever received was… 'I think you could do that job'.
The thing I wish I had done but never got around to… designing my own soft drink flavour.
If I could do it all again I… probably would?