Dr. Marc Bradshaw - Doctor of Philosophy - 2002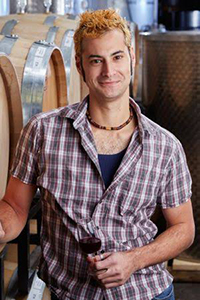 Dr Marc Bradshaw – Doctor of Philosophy – 2002
Winemaster – Pillitteri Estates Winery
Pillitteri Estates Winery Winemaster Dr. Marc Bradshaw's Shiraz Icewine, for a second year in a row, has been named one of the "Top Ten Syrahs" in the world at the "Syrah du Monde" wine competition, held in Ampius France May 15-16, 2008.
Pillitteri Estates Winery won a Gold medal for its 2006 Shiraz Icewine and last year also won gold for the 2004. This year's win was made even sweeter as the Shiraz ranked high among the "Top Ten" in the world by scoring the top 2nd best mark of all 384 samples provided. Pillitteri's Winemaster Dr. Marc Bradshaw comments "Receiving this accolade for my 2006 Shiraz Icewine is absolutely brilliant and totally unexpected, especially for a wine I made in my first vintage as Winemaster at Pillitteri Estates."
Dr Marc Bradshaw took time out of his busy wine making schedule, while located between Lake Ontario and the Niagara Escarpment, Canada, to answer some questions for our latest Spotlight story.
What was your first job after leaving University?
Hmm hard to say really, I was working in the wine industry during my studies, but it was probably working as a cellar and lab rat under Andrew Birks at Bidgeebong Winery in Bomen. Great job, had a blast and learned heaps.
Did this first job influence your career path and has your career path changed over the years?
Too right it did, up until then I had always planned on going back into Forensic Science after I had finished my Doctorate at CSU. But I figured I would see what this whole winemaking thing was all about and went and did a crush under Birksie, and absolutely loved it. Figured winemaking was definitely the path to choose. After working at Bidgeebong, it was all about winemaking after that, I travelled round working at wineries wherever I could.
What attracted you most to your current job?
I had been bouncing round the globe working crush to crush and loving it too, but then I came to Niagara to work as a cellar rat at Pillitteri Estates and really enjoyed it here, the area is gorgeous and the people are brilliant, but what I was really stoked about was working under Sue-Ann Staff. She was an absolutely amazing winemaker and boss, she taught me so much and I had such a blast working under her, it was constantly a barrel of laughs. That was ultimately the clincher when she offered me a position as her Assistant Winemaker. After that, when she left in 2006, and I was offered the Winemaster job, I really didn't want it. I was enjoying just making wine, even if it meant working under someone and following their vision, I really wanted to just keep it simple and move round and learn whatever I could, but they were persistent and eventually I accepted the job and am absolutely loving it. It is great being able to fashion and make and develop a wine exactly how you, and only you, feel and envisage it. It's pretty surreal actually.
Where did your drive and commitment come from?
No idea, to be quite honest I reckon it must just come from the simple fact that I am one of the luckiest lads around cause I am actually doing the only job I ever want to do, I love winemaking, it is all I want to ever do in life. I could be happy earning next to nothing as long as I can make wine. The whole drive and commitment comes from that, it's that simple.
What are/were the strong influences in your life?
Hmmm, have to say my family, they pretty much backed me on everything I've done, right or wrong. They always knew I would find my own way, even if I was taking the long way round. Apart from that, my little girl Tannin (she just turned 2 in May), she always keeps me sane. She's such a wonderful girl and an enormous part of my life along with winemaking. She can cheer me up regardless of how bad my day has been. A lot of what I do is for her, and for me personally I'm stoked cause of that, as well as the fact that I know she will be such an awesome winemaker one day! I bring her to work all the time and she just loves it, I keep telling her (although I'm not sure gets me yet) that as soon as she is old enough to drag a hose, then into the winery she goes to work! As for winemaking, that's simple: Geoffrey Scollary and Andrew Birks, those were the two guys who harassed me all throughout my Doctorate about giving up on Forensic Science and getting into winemaking, if it wasn't for those two, I would never have even considered winemaking at all.
What advice would you give to young graduates just starting out?
Gee I'm not sure if I'm the right one to give advice on that, but I guess it would be to have no fear. Don't be afraid of trying something you want, even if the thought of it scares the hell out of you. If it's something that important to you, then have a crack. Travelling away from your comfort zone for a job, contacting someone you consider an absolute guru in the industry to see if they have a job, confronting your bosses if there's something that's playing on your mind with your job, anything like that. I have always figured: what's the worst that can happen (that seems to work for me anyway!).