John Kerrison – Bachelor of Arts (Communication) Journalism - 2001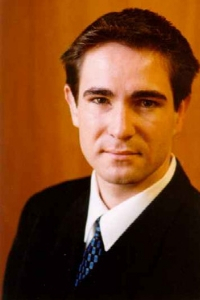 John Kerrison – Bachelor of Arts (Communication) Journalism 2001
Journalist – Channel Nine Sydney
John grew up in Sydney's inner west and came to Bathurst to study Journalism at Charles Sturt University's (CSU) Bathurst campus in 1998. While at CSU, he won the Nine News Journalism Scholarship and graduated in 2001. Now, after almost seven years working interstate and in country NSW, he has returned to home and renewed his connection with Channel Nine Sydney.
John's first job in journalism, however, was with Channel Seven's Sydney newsroom as an Assistant Producer. For John, "it was a great introduction to television news even though much of the work was overnight".
When asked if this first job influenced his career path, he answered "working in the fast-paced environment of TV was like being the round peg in the round hole – I knew I was in the right business."
Before study, John says he "was a lost soul in many ways because I'd never been able to pin-point what I wanted to do professionally." He studied through Charles Sturt University as a mature age student and had always had a passion for politics and justice – so journalism proved to be the perfect outlet.
Those first years shaped John's career. He says "I made many friends in those first years, and it's true when people talk about the media being a small community. It was a long period of personal learning after university but it helped get me to this point."
Between 2002 and 2006, John was the news editor and presenter of Prime Television's nightly news service based in Orange in Central West NSW. His was without doubt, the most recognisable face in the West. He reported on and presented coverage on all the major events affecting his country audience.
John genuinely believes in the role that the media can play in moderating and monitoring democracy. "It sounds like a lofty ideal but if the media won't do it, what will?" It was during his time at Prime News that he says "he learned a lot about what an audience values."
In 2006, John moved to South Australia as a television reporter and radio news presenter with the ABC and in late 2007 he joined Nine News in South Australia.
He was reporting for Channel Nine in Adelaide when he was approached by Nine News in Sydney to work for them. What attracted him most about this offer was "that it's back in Sydney." For John, "it was not only an amazing opportunity to join a new and energetic team in Australia's biggest news market but it was also great to be heading home after nearly seven years of work in regional or smaller markets."
Family is important to John. He says "they've kept me grounded."
What advice would John give to young graduates just starting out? "Enjoy it! And try to make every moment a learning experience. Value friends you make at university because there's every chance they'll stay friends for decades to come."