Kieran Moore - Bachelor of Arts (Communication - PR/Journalism) - 1985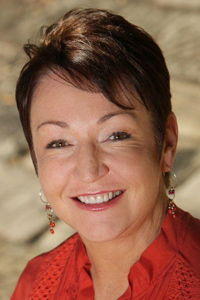 CEO, Ogilvy Public Relations Australia
The first in her family to attend university, Kieran Moore now leads Australia's largest PR and public affairs consultancy.
A graduate of CSU antecedent institution Mitchell College, Kieran has risen through the ranks to now help some of Australia's biggest organisations build their reputations, market their products and services, understand their stakeholders and take advantage of opportunity.
Here Kieran shares why she is motivated to address gender imbalance in the workplace, and how Gough Whitlam changed her life.
I was the first person in my family to go to University... I was a very grateful and once in a generation recipient of the ground-breaking policies of Gough Whitlam. Free tertiary education enabled me to pursue my lifelong goal of a degree.
At school I... was one of those crazy kids who loved school. I enjoyed every part of it – the friends I made and the activities that were on offer (I was part of the orchestra, the student council, the debating team; I played netball).
As a child, I was most curious about... different cultures. I have been lucky enough to travel (for pleasure and for work) and I have seen a lot of the world. I want to see more and more and more. I have an insatiable appetite for travelling to far flung places and for experiencing the new and different ways people live their lives.
I chose CSU because... at the time I graduated from school in 1982 communication degrees weren't as popular or as well understood as they are now. I wanted to study journalism and Mitchell College (as it was then) had the best reputation from all the other universities. I also liked the idea of studying and living away from home.
My best experience at CSU... was the course (of course) along with the experience of living away from home in regional NSW.
My worst experience at CSU... getting there on the first day, in the middle of a drought, to realise that my accommodation wasn't organised and a bunch of us slept in a massive room decked out with hospital beds (dormitory style).
At university I was inspired... by the people ahead of me in the course. They all seemed so self-assured and focused.
Today I'm motivated... by the shameful lack of diversity in the workplace, highlighted by the continuing absence of women and minority groups from representation on boards and at the highest executive levels of companies. The failure to utilise such a large body of talent is an indictment on current leadership. I am also motivated to act in terms of social justice. I think it's important to give back – whether it's money, time to a cause or supporting change.
In my profession it is important to... retain a sense of perspective. While the work we do is important we need to keep in mind the old saying: Its PR, not ER.
I never dreamed I would... end up running Australia's largest PR agency. I started working as the most junior of juniors at a not for profit and progressed through agencies in Australia and London – learning something from everyone along the way. To be where I am now is the pinnacle and I continue to work hard as sign of respect to my teams and to Ogilvy.
The biggest influence in my life... Gough Whitlam, because without his policies I never would have had the opportunity to become the first person in my family to attend university. Education is the key, and Whitlam provided it for me and thousands of others.
I'm most proud of... my daughter Grace, who is almost 8 and whom I hope will grow up into a more equitable world.
My greatest achievement is... I really don't think like that because every day is full of small achievements, small successes and small losses and if you dwell too much on one then you lose that sense of perspective I mentioned. I do, however, love seeing a team come up with great ideas and carry them through, and I love seeing individuals shed their self-imagined limitations and achieve more than they ever thought they could. To be able to take sometimes complex issues and turn them into something that resonates with the general public is immensely satisfying.
In the future I'd like to... be in the position where I can spend a gap year with my daughter.
The topic I Tweet about most is... gender inequality in Australia.
The best piece of advice I ever received... only listen to the people that you respect. What the rest have to say is their business and as such, irrelevant to me and how I choose to live my life.
The single-most important issue in the world is... Peace – it's as simple as that.
The thing I wish I had done but never got around to... doing a law degree after my communications degree.
If I could do it all again I... would spend more time studying and taking the opportunity to learn. You never get that time back. The idea of thinking about having three years just to expand my mind is now mind-boggling.
One last thing... be gutsy. My mum used to have a saying – no guts, no glory. I live by this now.