Kristen Ella - Bachelor of Health Science (Mental Health) - 2012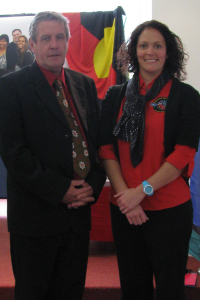 Aboriginal CAMHS Priority Advisor
As a teenager, Kristen Ella went through depression. It was this experience that inspired her to study her Bachelor of Health Science degree through CSU's Djirruwang program – a unique course specifically designed for Indigenous mental health practitioners to meet the needs of their own communities across Australia.
Kristen now works as the Aboriginal CAMHS (Child and Adolescent Mental Health Services) Priority Advisor with NSW Health.
Here Kristen shares with us why she is so passionate about the area of mental health and what she'd like to see happen in this area in future.
My childhood was... fun and adventurous.
I'm passionate about what I do because... I was an Aboriginal teenager who went through depression and self-harmed and I know what it's like to hit rock bottom and not see a way out. I preferred to speak to counsellors who have been through the same situation, than speaking to people who learn from a textbook.
I chose CSU because… it was running the Djirruwang Program and I wanted to work in Mental Health, especially as it was an identified course.
My best experience at CSU... was meeting all new brothas and sistas from NSW and WA.
At university I was inspired… to continue in Aboriginal Mental Health and make a difference.
Today I'm motivated… to continue with providing education to non-Aboriginal workers on Aboriginal mental health and support all Aboriginal workers.
In my profession it is important to… network, keep motivated, and continue to grow within yourself and your workplace.
I never dreamed I would… go to university after finishing high school and travel Europe. I see graduating from the Djirruwang Program and travelling the world as my greatest achievements.
The biggest influence in my life... is my parents. My dad never gives up no matter how hard something is and my mum as she is always herself no matter who she meets and what situation she is in. Don't change yourself for anybody - you are who you are.
In the future I'd like to… see more Aboriginal clinicians in mental health/drug and alcohol, but mostly more Aboriginal managers within Health, Education and politics.
The best piece of advice I ever received... Happiness is a journey, not a destination.
The single-most important issue in the world is… stop war - everyone should be able to live in peace and be happy.
The thing I wish I had done but never got around to... Working in very remote communities, but never say never!
If I could do it all again I... wouldn't change a thing. You learn from the past and this is what gives you experience and makes you who you are.
One last thing... How are YOU going to make a difference?