Lindsay Rogers - Bachelor of Arts (Communication - Advertising) - 2009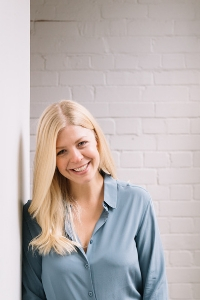 Co-Founder and Managing Director of content agency Chello
CSU's Bachelor of Arts (Advertising) degree has a plethora of graduates making their mark on the industry. Lindsay Rogers is one of them.
Following graduation in 2009, Lindsay has worked in agencies before she co-founded content creation company, Chello in 2014 with business partner, Tristan Velasco.
Lindsay said her passion for creating engaging content for clients is borne of storytelling – pulling out the insights and building stories that educate, inspire and move people.
With a love of new ideas and a 'sprinkling of nerd,' Lindsay likes nothing more than taking brands and consumers on a journey. Here she shares just how CSU helped prepare her to create the kind of agency she'd always dreamt of.
As a child, I was most curious about... people, ideas and things. Much to the embarrassment of my parents, I was a walking, talking life commentator. "Look Mum! A pig". It was a bulldog. Circa age 3.
I chose CSU because… the course lecturers are industry players; ex-strategists and ex-creatives from agencies, with real life experiences and contacts. The course had practical elements such as Kajulu and mandatory internships which other unis didn't necessarily offer or highlight.
My best experience at CSU... living on campus was an amazing experience (I did for three full years!) Being chosen to be a part of the InterAd and Big Idea competitions was fantastic - working on real briefs against universities across Australia and the world was great experience that aided me in transitioning into agency life after uni with a broader portfolio than other peers.
My worst experience at CSU... packing up all of my stuff every holidays to move off campus and back on again for term time!
At university I was inspired… by the creative people I studied with and the opportunity of the many places this course could take you.
Today I'm motivated… by big-thinking people.
In my profession it is important to… think about the bigger picture, often outside our scope of work. Also to use empathy based design thinking to approach business problems in innovative ways.
I never dreamed I would… own my own business at 25.
My greatest achievement is... launching Chello in 2014 and hitting the ground running. We never dreamt we'd have this much momentum in such a short timeframe.
I'm most proud of… constantly crafting a company culture around giving back and being an authentic agency that we'd like to deal with.
In the future I'd like to… work on global campaigns.
The topic I Tweet about most is... innovation
The best piece of advice I ever received... you've gotta be in it to win it!
If I could do it all again I... really wouldn't do anything differently. I believe that the grass is greener where you water it.
One last thing... I really believe you get out as much as you put in.