Mashhood Khan - Master of Professional Accounting - 2016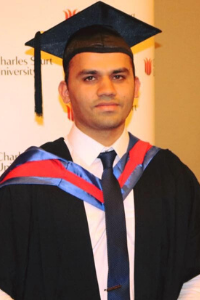 Mashhood is from the class of 2016. Mashhood was a little reluctant to share his story, but realised that it may help a fellow student or alum in a similar circumstance.
Mashhood encourages new students to work hard to prove themselves and achieve the goals that they have only ever dreamed about.
'I had faced discrimination, bullying at an early point in my career. Some people's behaviour towards you can be very bad, but then it gives you more strength to achieve your goals.'
At the time, Mashhood thought that being strong meant not letting anyone know what he was going through, and not adjusting anyone's expectations (including his own). 'I realize now that we're all just human beings. Asking for help when you need it to demonstrate confidence and builds trust, not the other way around.'
'Two names which I never forget of CSU Melbourne Ali Syed and Azeem Mohammad, the people who really encouraged me during my MPA degree and gave me the enthusiasm to develop my professional career.'
I have great respect for these people and learned a lot from them. I have started my career as a Security Supervisor three years before and now working as a Finance Administrator in a multinational company.
'This is a milestone that I always dreamed about but this is not the end, many more milestones to achieve.'
Mashhood says it feel good to be recognised for your hard work, but he did not really expect any special praise or acknowledgment for doing what he felt, he should be doing.
'Sometimes you have good days and your bad days, just like any other industry. But when I am able to spread positivity to my fellow colleagues and motivate them to do more hard work that makes it all worth it.'
'Life is unpredictable so never assume yourself any negativity, do the hard work, and make it worthwhile on that point where people think of you as a good example.'