Shane Stone - Diploma of Teaching - 1975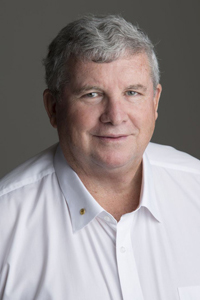 Honourable Shane L. Stone AC PGDK QC
Diploma of Teaching –RCAE 1975
National President, Order of Australia Association
To say Shane Stone has been a busy man would be an understatement. He has twice served as Attorney General and held a number of portfolios including Education & The Arts, Employment & Training, Mines & Energy, Industries & Development as well as Asian Relations & Trade.
So where does a man like that draw his inspiration from? We asked him a few questions to find out
Where did your drive and commitment come from?
My inspiration came from both parents who worked tirelessly for the community. My mum Pam Stone OAM was one of the pioneers of post secondary education in the Border area (RCAE benefited greatly from her efforts) as well as being the first woman to be elected Mayor of Wodonga in 1985. People learn from example – I learned and was inspired by my parents.
What was your first job after leaving University?
I was teaching in Albury, later Wodonga and the Diploma of Teaching completed externally and part time was to upgrade my Trained Primary Teacher's Certificate from Victoria.
Did this first job influence your career path and has your career path changed over the years?
The greatest influence I had on my career choice was my late father Les Stone a primary school teacher who had taught in the Border area for many years including as Principal of Wodonga West Primary School. He later became Wodonga's first Mayor in 1973. Teaching of children is one of the most important callings or vocations that one can aspire to. I left the class room however in 1975 and became an administrator in a Melbourne based teachers' college. Having left the classroom I was not destined to return and ultimately went on to study law.
What attracted you most to your current job?
Nowadays I run my own companies across a diverse portfolio. Every day is different.
What are/were the strong influences in your life?
Growing up in a community where material wealth was secondary and the quality of your contribution counted for more than anything. In essence know a person by their deeds and not by their possessions. That was drummed into me by my father. This has been a guiding beacon for me in life and an aspiration I have worked to instil in my own children.
What advice would you give to young graduates just starting out?
Four pointers:
If you work out that you are in the wrong job or calling do something about it;
Always strive to do your best but never ever at the expense of others;
Value family above all else, it's an asset money can't buy and never let the sun go down on a family argument;
Keep and maintain your sense of humour – life's too short.