Micharne Cloughley - Bachelor of Arts (Television Production) - 2006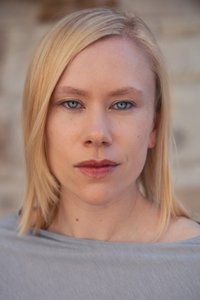 Writer, TV development and production
Growing up in the Blue Mountains west of Sydney, Micharne Cloughley spent much of her childhood exploring imaginary worlds. Studying a Bachelor of Arts (Television Production) with a minor in Screenwriting at CSU, Micharne now creates such worlds writing for theatre and television.
Micharne's play ONE FLESH was directed by Anthony Skuse at the Adelaide Fringe Festival 2012 to critical acclaim, and was also read in the Page to Stage series by Australian Made Entertainment in New York in 2013. As part of the JUMP Mentorship program by the Australia Council, Micharne was mentored by Tony Award winning playwright Warren Leight and wrote her play Masters of F*** All. Her plays have also been developed by the Rock Surfers Theatre Company, Animus Theatre Company (USA), NYC Playwrights (USA) and Theatre in the Red (Canada). In the television industry, Micharne has worked in development and production for Eyeworks, Endemol, Fremantle Media, Silk Studios and SBS.
A strong believer in equal accessibility to the Arts, Micharne has volunteered as a Creative Writing Tutor with Lou's Place Refuge in King's Cross and in puppetry with Clay and Paper Theatre in Toronto, Canada. Here she shares with us why she is so passionate about creating works that make you laugh, think and feel.
At school I... wanted to be an actress or a doctor. I think I assumed I'd always be writing.
I chose CSU because… of the practical creative opportunities in the course, the training on industry standard equipment and the high employment rate after graduation. Also I clearly remember meeting the whole television department at the selection interview and was immediately excited about the opportunities discussed.
For one of my major projects in third year, we built a giant handbag in the TV studio... Looking back now with nine years of experience and further education, the entire process behind this film was incredible. To begin with, I had pitched three ideas for this assignment, and by far my most 'out there' and experimental idea was selected by the department. The idea was that when you lost weight, it became a miniature version of yourself and lived in this giant handbag.
At every step of production, my ambitious decisions were 100% supported by the department and the student crew I led. This process gave me a huge amount of confidence in my work and confidence in taking creative risks in future work. The moment of walking into your imagination being brought to life by your friends and colleagues is unforgettable.
My worst experience at CSU... missing theatre in Sydney or other metropolitan cities. You are culturally isolated, but as this is the normal experience of regional Australia, three years of it gives you a great appreciation for the importance of touring shows.
At university I was inspired… from my very first week. On the Friday of your first week you have your first full day in the studio, where you rotate through each of the production roles. This was the first time I had ever directed in a TV studio, and I immediately felt I had found a new creative home.
Today I'm motivated… to write television and theatre that makes you laugh, think and want to hug someone.
In my profession it is important to… find a balance between writing, other work and living, and to keep writing when the latter two get intense.
The biggest influence in my life... my incredibly supportive family.
I'm most proud of … My play ONE FLESH was produced in the Adelaide Fringe Festival in 2012 with Holden Street Theatres, directed by Anthony Skuse. The conversations with audience members after the show confirmed the play was raising the questions and starting discussions I was striving for through writing it.
In the future I'd like to… write and produce a TV drama series while continuing to write for the theatre.
The topic I Tweet about most is... new creative work. I'm at @micharne
The best piece of advice I ever received... to make one script amazing rather than several good scripts when you are starting out.
The thing I wish I had done but never got around to... creating a weekly web series. I'll get there soon.
If I could do it all again I... I wouldn't change anything about my time at CSU, but if I could change something about my work pre and post CSU I would identify and call out tall poppy syndrome as it is occurring. Perhaps if we all objectively identify it as it is happening, we can get rid of it out of Australian culture.
One last thing... Your time at CSU will shape who you are if you want it to. From the kangaroos you negotiate walking over the hill, to the simply wonderful human beings that you live and work with, this is a place where it's you, the land and your mates in a simplicity that allows you to focus on your voice as an artist and the technical capacity to realise your vision.