Natarsha Belling - Bachelor of Arts (Communication - Journalism) - 1996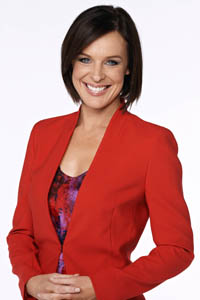 TV news presenter
Natarsha Belling is one of the most recognised presenters on Australian television.
Having dreamt of becoming a journalist from a very young age, Natarsha chose to study her Bachelor of Arts (Communication - Journalism) at CSU due to the course's excellent reputation in the industry.
After reading her first international news bulletin at just 21, Natarsha now has close to two decades reporting and breaking some of the nation's biggest stories.
Here Natarsha shares her passion for telling people's stories and gives an insight into why she feels privileged to work in the Australian news media.
I was the first in my family to attend university and I feel incredibly blessed to have been given the opportunity of a university education. For previous generations, like my parents, their first priority was to get a job, not to further their education. My parents were incredibly proud when I decided to attend university and I am forever grateful they worked so hard to give me the chance to follow my dreams.
I'm currently... a national journalist and weekend news presenter for Network Ten Australia.
My childhood was... incredibly exciting, but very relaxed. I was born and raised in the country and loved every moment.
As a child, I was most curious about... everything! I was known for always asking questions and Mum says my favourite word was WHY?
At school I... had lots of fun but also worked incredibly hard. I needed a very high TER (Tertiary Entrance Rank) to be accepted into the journalism degree at CSU in Bathurst.
I chose CSU because… I always dreamed of being a journalist and the journalism course at CSU had the best reputation in the news business.
My best experience at CSU... learning so much and having lots of fun along the way!
My worst experience at CSU... Early morning lectures were always a struggle after bar night!
At university I was inspired… to chase my dreams and become a journalist.
Today I'm motivated… to always improve and never stop learning.
In my profession it is important to… be accurate, compassionate and calm.
I never dreamed I would… become a news presenter. I always dreamed of being a journalist and having the opportunity to also present the News is certainly the icing on the cake.
The biggest influence in my life... my mum and dad.
I'm most proud of… my marriage and two young sons.
My greatest achievement is... being a hands-on mum and also a dedicated and hard-working journalist.
I love telling people's stories and I feel incredibly blessed to work in the media industry. It's a great privilege to be a journalist and great journalism is fundamental to a democratic society.
In the future I'd like to… slow down!
The topic I Tweet about most is... breaking news
The best piece of advice I ever received... have respect.
The thing I wish I had done but never got around to... writing a book.
If I could do it all again I would... not to be so hard on myself. But I don't have any regrets, just life lessons.
One last thing... details after the break…