Nikhil Chikati - Master of Information Technology (Business Analysis) - 2020
Nikhil Chikati - Master of Information Technology (Business Analysis) - 2020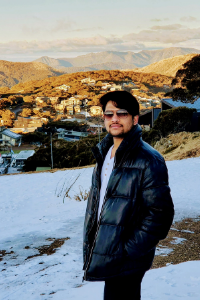 Were you the first in your immediate family to attend university? If so, what did that mean to both you and your family?
I am the first in my family to attend the university. It was a privilege to study at CSU and both my parents and my relatives felt so happy.
What high school did you attend? Would you be interested in going back to your school to talk to current students about your CSU experience?
I attended my high school in India from Narayana Jr. College. It would be a great opportunity for me to share my experiences with the current students.
What attracted you to your current role?
The idea of benefitting current university students by sharing our own experiences and journey is what attracted me the most.
Can you give us an insight into what your role involves on a daily basis?
I could divide my roles into two parts:
Part 1 was where I was a student and a PASS student mentor with the university, where I juggled with my semester subjects, organised online ZOOM sessions and worked part-time at Woolworths.
Part 2 is where I am currently working full-time as an ICT Business Analyst with City of Port Phillip, the role which I received after completing my internship which I got through CSU.
Why are you passionate about what you do?
I always love new tasks and challenges, be at work or in any sport and I aim to complete them before time.
Where did your drive and commitment come from?
Mostly from my parents and from the experiences which I had gone through my entire life.
What advice would you give to young graduates just starting out?
Plain and simple. Enjoy what they are doing, complete the tasks on time, focus on how they want to shape their career as their future lies in their own hands. And finally enjoy life, all work and no play makes jack a dull boy.
Snapshot:
At school I....was a quiet and smart student who excelled both in sports and academics.

My childhood was....fun and loving as I got many friends and my parents who helped me develop in many aspects of my life.

As a child, I was most curious about......rockets and outer space.

I chose CSU because …..I knew it would be the right university to pave my future career in Australia.

My best experience at CSU......organizing online PASS sessions through ZOOM.

My worst experience at CSU.....nothing till date

At university I was inspired …..by the career counselling sessions and all the professors.

Today I'm motivated …….every day and every second of my life because I set goals not only for the future but also for the present.
In my profession it is important to…..meet the needs of business owners and satisfy their requirements.
I never dreamed I would ……achieve a professional job abroad.

The biggest influence in my life.....MY PARENTS

I'm most proud of ……my interpersonal skills.

My greatest achievement is......landing a full-time IT Job in Australia

In the future I'd like to ……manage my own business

The topic I Tweet about most is.......I do not follow Twitter (SORRY!!)

The best piece of advice I ever received......."Be who you are, always follow your goals and everything will fall into place"

The single-most important issue in the world is …….right now it's CORONA!!

The thing I wish I had done but never got around to.......Travel around the world.

If I could do it all again I......I would like to have my university life back!!

One last thing.........Be who you are, set a goal and do whatever you can to achieve the goal. All you need to invest is your time and effort and eventually everything will fall into place.