Ross Reynolds - Bachelor of Business - 1981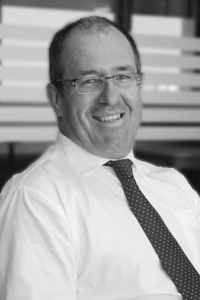 Former Australian Rugby Union player and coach
The son of a Cumnock grazier, Ross Reynolds began his rugby union career at The King's School, and was soon named in the Mitchell College first XV after commencing his Bachelor of Business Administration at the Bathurst Campus in 1977.
Going on to play in the NSW Country Championship team in 1980, Ross played his first game for the Wallabies in 1982, following in the footsteps of grand uncle Lionel 'Leo' Reynolds, who represented Australia in two international rugby tests in the early 1900s.
Playing in 10 Tests and 25 Australian representative games, Ross had a successful career in coaching before moving into the commercial world, specialising in business development.
Ross shares his tips for winning in sport and in business.
I'm currently… working for HDR Rice Daubney as their Director of Business Development.
At school I... played every sport I could; rugby union, basketball, shooting, swimming, tennis, Australian rules and cricket. I also played rugby union and basketball for CSU.
I chose CSU because… it was strategically placed in between my family property in Cumnock and Sydney.
My best experience at CSU... was winning the Central West Competition in 1978, winning the NSW Country Competition with Central West in 1980 and being selected for NSW B 1980 while still at CSU.
My worst experience at CSU... I cannot think of any negatives. I had a great time and enjoyed every day at CSU.
Today I'm motivated… by success and continually trying to improve my professional standing within the property and construction industry. I enjoy working hard as a team, in sport or in business, to achieve success, make sacrifices, and find ways to out-think our opposition.
I never dreamed I would… one day play for Australia (1982-1987), win Sydney Premiership's with Manly in 1983 and Gordon in 1993, and win the SMH and Rothman's Medal for Player of the Year Awards in 1992. Nor did I dream I would coach Sydney University (1999-2001), winning the Sydney Premiership in 2001, the ACT Brumbies and the Australian Wallabies 2005-2007, or commentating for ABC Radio and ABC TV (1995-present).
The biggest influence in my life... my stable, hard working and loving environment provided by my parents.
I'm most proud of… playing and coaching for my country.
My greatest achievement is... winning two premierships as a player, winning three premierships as a coach and playing and coaching for Australia.
In the future I'd like to… continue winning commercial projects for HDR Rice Daubney to provide the architectural design for our clients and win the 2015 Sydney Premiership with Manly, who I am now helping to coach.
The best piece of advice I ever received... be persistent; don't ever give up in sport or business and you will find a way to be successful.
The thing I wish I had done but never got around to... parachute out of a plane but my wife won't let me!
One last thing... take every opportunity that comes your way; smile, laugh, enjoy life with family and friends. This is not a dress rehearsal.