Samuel Hok Chi Tung - Bachelor Business (Management) - 1991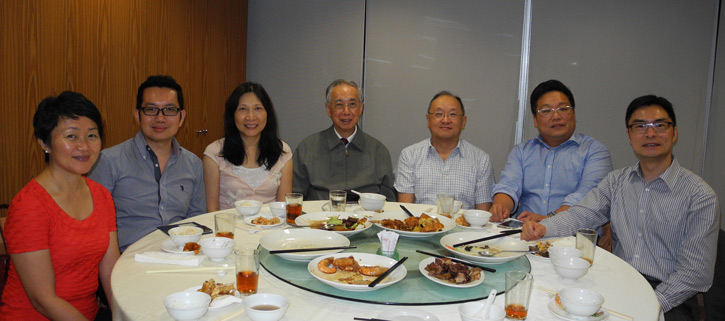 Charles Sturt University Alumni Association, Hong Kong Chapter, Chairman
Samuel Tung was one of CSU's first graduates.
Having migrated to Albury, Australia, in December 1984, Mr Tung immediately enrolled in a business management course with the Riverina-Murray Institute of Higher Education (RMIHE), an antecedent institution of CSU.
Mr Tung spent the next six years studying part-time and working various jobs in Albury, and was given the choice of graduating from RMIHE or the newly-formed Charles Sturt University.
"I chose CSU, which made me one of the first CSU graduates of the Albury Campus," he said.
During the recession that hit Australia in the early 1990s, Mr Tung decided to take his chances and returned to Hong Kong to seek employment, which is where he lives and works today.
Hong Kong Chapter established
It was in 1994 that current patron of CSU Alumni in Hong Kong, Mr Patrick Wu, approached Mr Tung about forming the Charles Sturt University Alumni Association (CSUAA), Hong Kong Chapter. Mr Tung has held the position of CSUAA Chairman ever since.
"As a local alumni chapter, CSUAA is able to foster networking and organise local activities in Hong Kong that would be more difficult to arrange from Australia," Mr Tung explained.
"Unlike in Australia, CSU is not quite as well known by the local general public. CSUAA helps bring graduates together in one big group within the community to create a market presence for CSU,thus helping graduates by advancing their career prospects, and also promoting CSU to those seeking to further their study."
Mr Tung explained that the CSUAA Hong Kong Chapter is one of the 13 founding members of the Federation of Australian Alumni Associations (FAAA) in Hong Kong. The FAAA now represents 23 Australian Alumni Associations in Hong Kong and is also a member of the Support Australian Group (SAG) in Hong Kong supported by the Australian Consulate General in Hong Kong.
"Networking within the CSUAA isn't limited amongst CSU graduates, as the FAAA fosters networking with other Australian universities' alumni as well. Our members are able to participate in activities organised by the FAAA or by any individual Australian alumni associations here in Hong Kong, and are also able to join in activities organised by the local Australian community."
Importance of staying connected
Mr Tung believes it is important for alumni members to keep in touch with both CSU and each other, to expand their own opportunities in many ways.
"Keeping in touch with CSU Australia means they will know of new postgraduate studies they might be interested in," he said.
"Locally, they might find someone who works within the same industry or related industries that they can share their experiences or seek new market opportunities.
"Personally, they can find someone who might have the same interests or hobbies that they can share their enjoyment with or even start a new hobby group among themselves.
"CSUAA hopes to create a sense of belonging for the graduate long after they have graduated. We want them to build their networks and to feel proud to be a CSU graduate."
CSU appreciates the hard work and expertise of volunteers like Samuel Tung. If you live in Hong Kong and are interested in joining the CSUAA, please contact the CSU Alumni Team by emailing alumni@csu.edu.au