Sibylla Deen - Bachelor of Arts (Communication - Theatre and Media) - 2004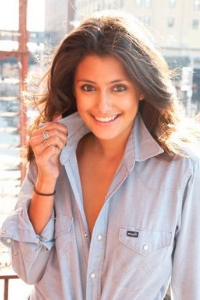 From Summer Bay to New York is a long way, but for Sibylla Deen it has been the trip of a life time.
Sibylla has just been awarded the IMTA (International Model & Talent Association) Actor of the Year Award in New York - Past winners include Eva Longoria of Desperate Housewives fame, Katie Holmes and Ashton Kutcher, so she has every reason to be proud.
In winning this award Sibylla has been offered a 3 episode guest spot on Gossip Girl and an opportunity to appear in an upcoming Bollywood film to be shot in India, later this year.
We wanted to find out just how Sibylla feels about her chosen career and got her to answer a few questions.
What was your first job after leaving University?
Always acting - I finished on Home and Away and then worked on Comedy Inc.
Did this first job influence your career path and has your career path changed over the years?
Home and Away helped me to discover my passion for TV/film style acting which has definitely influenced my career path. I broke away from theatre worked on many different: commercial, film and TV projects. I also worked part-time in marketing and events which gave me a more well rounded view of the industry.
What attracted you most to your current job?
I've always wanted to be an actress so anything within that realm has mass appeal for me. The current job is fun and allows me to do good work.
Where did your drive and commitment come from?
My parents, they bought me up to believe in chasing your dreams. They have been so supportive from day one, which has allowed me to persevere even when times were tough. There are millions of people trying to work as actors so you need to stay driven and trust that the right part will find you when it's meant to.
What are/were the strong influences in your life?
My family and friends who have encouraged me.
And my drama influences from primary school to university.
I auditioned for a drama school when I was 10 where I was able to travel and perform in different countries, I met amazing shaolin monks in China, Lee Strasbourg trained actors in LA and ridiculously talented dancers and singers - who all inspired me in their own way. I think everyone touches you is some way and you always take that with you on your journey - whatever you choose to with your career.
What advice would you give to young graduates just starting out?
The best advice anyone ever gave me was to actually get a degree. You'll always fall back on it, rely on it. And Charles Sturt Theatre Media had such a practical basis that I took all my skills in to the workforce with me. Follow your dreams, be proactive and don't give up even if it's hard sometimes. It always works out in the end.