Innovation, Entrepreneurship Creativity
Charles Sturt University Distinguished Alumnus of the Year – Innovation, Entrepreneurship Creativity
This award recognises alumni who have made an extraordinary impact through innovation in their industry or profession. This encompasses all industry sectors, for example, agriculture, technology, allied health, the arts, culture, and/or creative sectors.
Winner
Winner: Craig Ford
Career: Chief Technology Officer, Baidam Solutions Pty Ltd / Journalist / Author
Course: Grad Cert in Management (IT), 2014; Master of Management (IT), 2016; Master of Information Systems Security, 2019
Mr Craig Ford is a cybersecurity engineer, ethical hacker and writer with over twenty years of experience in IT and cybersecurity. He is a socially driven individual and the Chief Technology Officer for Baidam Solutions Pty Ltd, an Indigenous cyber security consultancy firm. He is also a published author and freelance cybersecurity Journalist, writing for Women in Security, Cyber Today, Cyber Australia, SecureGOV, Top Cyber News and Careers with STEM Magazines.
Craig was honoured in the 'Global 40 under 40 in Cyber Security' for 2022, by Top Cyber News Magazine. He was awarded the AISA Cyber Security Professional of the Year Award in 2020 and was elected AISA Brisbane branch Chair in 2021. He received the 2021 Australian Women in Security Awards 'Special Recognition Award for Male Champion of Change' and was named a finalist of the Australian Information Technology Security Association's 'Young Business Executive of the Year' in 2013."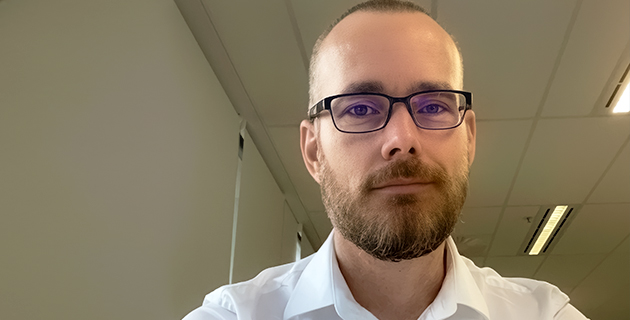 Highly Commended
Winner: Jim Boekel
Career: Co-Founder and CEO Bluerydge
Course: Graduate Certificate in Information Systems Security; Master of Information Systems Security
Mr Jim Boekel has worked across cyber security and IT technical positions and management since 2001. In 2019, Jim co-founded Bluerydge, an award-winning cyber security and technology firm supporting Government, Defence and Industry. He is also member of the Industry Advisory Committee on Veteran's Employment and has exemplified strong leadership, innovation and commitment to excellence as CEO of Bluerydge.

Jim has received numerous accolades for his industry commitment and excellence. In 2022 Bluerydge won the 'Australian Small Business Champion', the Prime Ministers National Veterans' Employment 'Employer of the Year' and was finalist in Australian Defence Industry Awards 'Cyber Business of the Year' awards. Jim has also been nominated for numerous awards and was a finalist for two 2023 Australian Cyber Security Awards and Telstra Business Awards.