Charles Sturt University Distinguished Alumnus of the Year – Young Alumni
This award recognises extraordinary achievements of our new graduates across both the professional and service to community fields. Nominees must be under the age of 35.
Winner
Name: Mr Gideon Johnson
Career: Lead Educator, Critical Care
Studies: 2020, Master of Nursing (Leadership and Management)
Gideon Johnson is a doctorate prepared lead educator and senior specialist nurse in the major adult trauma intensive care unit and critical care areas. He holds current and unencumbered practice licenses in Australia, the United Kingdom, and the United States of America. He has progressed in his career through the diversity of clinical experience across three continents and advancement in scientific knowledge since he graduated from Charles Sturt University.
Gideon migrated to the UK during the pandemic to support the severe impact of the COVID-19 in a major hospital. Gideon took over the complex care of patients with limited orientation. He led a team of multidisciplinary staff, specialists, and non-specialist nurses to safely care for numerous critically ill patients with COVID-19. He also supported the department's expansion of the ICU to accommodate many patients. During this time, Gideon trained over 25 nurses to become competent critical care nurses and received the Make A Difference Award from the entire organization for his remarkable work and mentoring.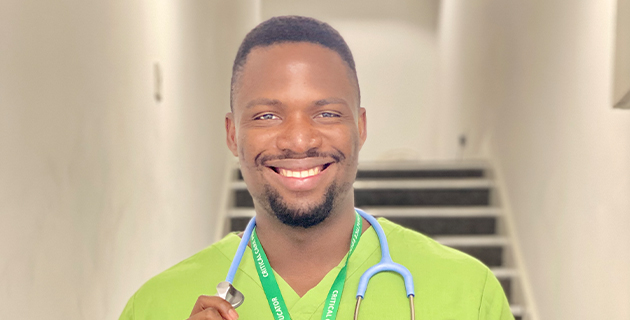 Highly Commended
Name: Mrs Anna Barwick
Career: CEO and Founder of PharmOnline
Studies: 2008, Bachelor of Pharmacy (Hons)
Anna Barwick is a Pharmacy Practice Lecturer in the School of Rural Medicine at the University of New England. Born and raised on an organic and biodynamic property at Peak Hill, Anna now lives with her husband and children on their Australian Stockhorse Stud farm in Walcha. Anna is the founder of PharmOnline, the first pharmacist-led telehealth service in Australia.
PharmOnline connects people with experienced pharmacists to discuss their medication and health goals. PharmOnline is particularly valuable to people that are isolated and are unable to easily access their local health services. Anna was recently awarded the PSA 2021 NSW Pharmacist of the Year, the 2021 UTS Innovative Pharmacist of the Year, the 2022 NSW Premier's Woman of the Year and 2022 NSW Mineral's Council Regional Woman of the Year for her health and wellbeing innovation.
This award recognises young alumni (under the age of 35) who are having an impact and inspiring others through their professional achievements or service to community.
Other criteria
Applicants must be 35 years or younger in the year of the award.
Alumni (local on international) who demonstrate:

exceptional success in their chosen industry or field; and/or
the significant positive impact they have had on their community.

Alumni who demonstrate through their work, professional or community, alignment with one or all of the University's values of insightful, inclusive, impactful and inspiring.
Make a nomination

chevron_right

Nominate yourself or an Alumni you know.

Nominations close at 5pm on 2nd June 2023.
Process guidelines and policy

chevron_right

The Alumni Award nominations will be assessed by an internal University committee. Award recipients who have been nominated by someone else will be contacted to ensure they are happy to formally accept the nomination prior to formal advice being sent out.